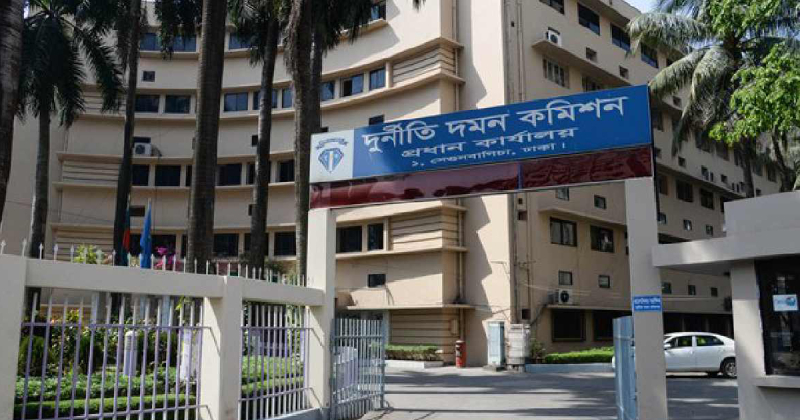 The Anti-Corruption Commission (ACC) on Thursday submitted a final report recommending the acquittal of 5 defendants, including a former minister's son, from the charges of giving illegal gas connections and transfer in Chattogram.

Abdul Latif, inspector of Chattogram court, said ACC Deputy Director Md Atiqul Haque, submitted the final report to the Chittagong Metropolitan Sessions Judge Court on Thursday.
"The court also fixed April 9 for the hearing on this report," he added.
Those who have been recommended for acquittal are Mujibur Rahman, son of former expatriate welfare and foreign employment minister Nurul Islam, Md. Sarwar Hossain, former general manager (engineer and services) of Karnaphuli Gas Distribution Company (KGDCL), former south zone technician (surveyor) Md. Didarul Alam, manager Mujibur Rahman, and former general manager (marketing) Mohammad Ali Chowdhury.
ACC noted in the final report that "as the illegal gas connection was disconnected, there was no complaint by MA Salam's wife, no financial loss to the government occurred and no evidence of bribery was found, the final report was submitted in this case."
Earlier on June 10, 2021, the sacked Deputy Assistant Director of ACC Sharifuddin filed the case as the plaintiff.
According to the case statement, there were 18 unused dual stove connections allotted in the name of (late) MA Salam, resident of Halishahar area of Chattogram city. Among them, 12 were transferred in the name of Mujibur Rahman of Sanowara residential area of Chandgaon police station in the city. A fake contract was also signed in the name of Salam's wife. Since Salam and Mujibur have different subscriber signals, the change of connection is not legal.
Besides, 10 new connections were given in Mujibur's name from March 2, 2017, to August 2, 2018, though the government stopped providing any new gas connections in the country on February 28, 2016.
However, KGDCL disconnected 22 illegally supplied gas connections the day after this case was filed, reports UNB.