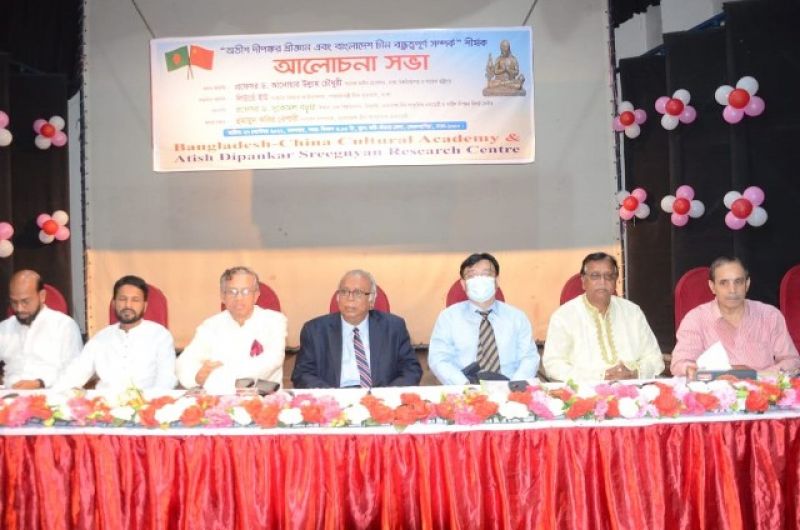 Speakers at the seminar on Atish Dipankar Sreegnyan and Bangladesh-China friendship at the Kachi Kaachar Mela auditorium in Dhaka on Tuesday.

The bond of friendship between Bangladesh and China is rooted in cultural exchanges for a millennium since ancient times and is based on sovereign equality and mutual respect for each other. This relationship should be further strengthened for the benefit of the people of the two countries.

This was stated at a seminar on Atish Dipankar and Bangladesh-China friendship organized by the Arish Dipankar Sreegnyan Research Centre and the Bangladesh-China Cultural Academy at the Kachi Kachar Mela auditorium in capital Dhaka on Tuesday.
Former Vice-Chancellor of Dhaka University Prof. Anwarullah Chowdhury was the chief guest at the seminar while Liwen Yue, Cultural Counsellor, Embassy of PR China in Bangladesh was the guest of honour. Presided over by Prof. Sukomal Barua of Dhaka University the function was also addressed by Abdus Salam, adviser to BNP chairperson Khaleda Zia, Mostafa Kamal Majumder, editor, GreenWatch Dhaka online daily and Humayun Kabir Bepari, secretary general, Bangladesh-China Cultural Academy.
Prof. Anwarullah Chowdhury said that the 1949 revolution brought social transformation in China. The people of Bangladesh want to establish an egalitarian society. There is no conflict between Islam and Buddhism as Buddha wanted to free people from injustice while Islam preached egalitarianism.
He said that 1978 was a glorious time in the relations between the two countries when President Ziaur Rahman visited China and facilitated the bringing of Holy ash of Atish Dipankar from Tibet to his ancestral home – Bangladesh.
Chinese scholars not only enriched Buddhism in South Asia but also wrote travelogues based on which interesting information about Bangladesh of the ancient period are discerned.
Liwen Yue made mention of three Chinese scholars and one navigator who visited South Asia from the fourth century to the 7th century AD in search of truth and and enrichment of Buddhist faith. Atish Dipnkar was unique in that he went to Tibet (China) from Bangladesh to preach and enrich the religion. Cultural exchanges continued under two successive dynasties.
The Cultural Counsellor of Chinese embassy thus pointed out that relations between the two countries existed much before 1975 when diplomatic relations were established and there were exchange of visits of Bangladeshi leaders Bangabandhu Sheikh Mujibur Rahman and China's former Premier Zhou En Lie in the fifties and the sixties of the last century. The cultural exchanges were resisted during the colonial rule in South Asia between 1757 and 1947, he said.
Emphasising the need for looking into the future based on the seeds of friendly relations sown by predecessors Liwen Yue said we will have to build further. China is ready to move shoulder to shoulder to further deepen the close relationship, he added.
BNP leader Abdus Salam said that the Rohingya issue was a pressing national problem for Bangladesh. China could play an important role in resolving the problem.
Mostafa Kamal Majumder said that for reasons not entirely known and need to be investigated, the people of Bangladesh have a deep treasure of love and friendship for the people of China. May be because it is the next neighbour, or because of the rich cultural exchanges that have taken place since ancient times. Prophet of Islam Muhammad (sm) has advised Muslims to go as far as China in search of Knowledge. Bangladesh needs to nurture this friendship to assert its existence as a peaceful and reliable friend.
In his presidential speech Prof. Sukomal Barua termed China as a tested and reliable friend of Bangladesh and said both the countries sought unity in diversity. China wants good relations with all neighbours which Bangladesh also pursues. Both the countries are struggling to ensure better life for their peoples, he said.
He said that it was during the time of President Ziaur Rahman that the relations between the two countries were further deepened. It was at his initiative that the holy Ash of Atish Dipankar was brought from Lhasa in Tibet. – GreenWatch News Desk