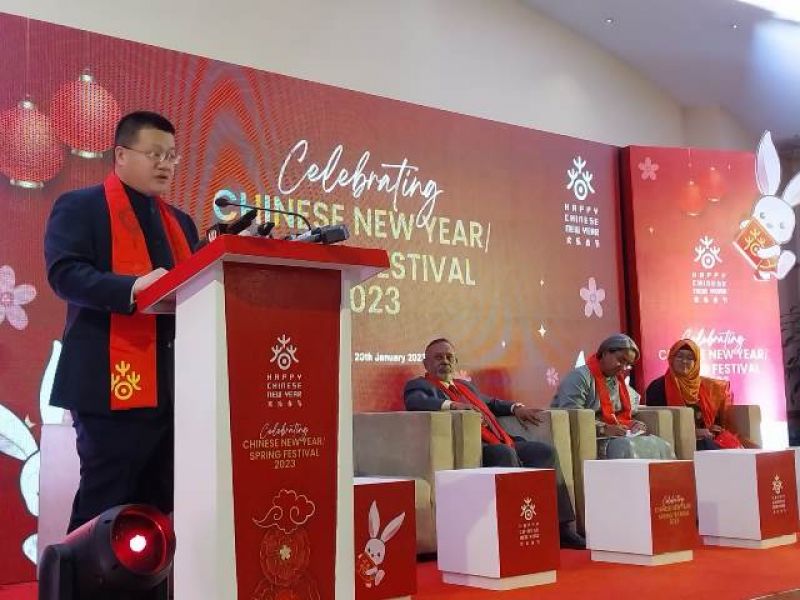 Ambassador Yao Wen speaking at the Chinese New Year Spring Festival 2023 at a hotel in Dhaka on Friday last.

Jehangir Hussain

Chinese Ambassador to Bangladesh Yao Wen said on Monday that repatriation of Rohingyas to Myanmar their homeland would start at an early date.
He gave the assurance during a meeting with the Foreign Minister Dr. A K Abdul Momen at his office.
He also assured Bangladesh that China would provide continuous support for the repatriation of Rohingyas, Foreign Ministry said in Dhaka after the meeting.
Ambassador Yao said, "China supports any global initiative if it remains conducive to common development worldwide and avoids division or confrontation."
He said any initiative by a country should be "open and inclusive" instead of being exclusive to a particular country or against any country.
Foreign Minister Dr Momen expressed the hope that bilateral relations between the two countries would reach new heights during the tenure of Ambassador Yao.
He thanked China for being the largest bilateral trade partner of Bangladesh and hoped that China will invest more in Bangladesh in coming years.
Momen appreciated China's assistance in several mega projects in Bangladesh and said that he would expect speedy approval and implementation of the existing projects as well those in the pipeline.
He thanked China for the "invaluable support" it had extended to Bangladesh to tackle the Covid-19 pandemic.
Momen also thanked the government of China for enhancing duty free quota free (DFQF) access of Bangladesh products in Chinese market from 97 per cent to 98 per cent.
He expressed the hope that this facility would come into force with gazette notification within a short period of time.
Though the Chinese government announced the DFDQ last year but it was yet to issue the gazette, for which, the Bangladeshi business groups cannot utilise the facilities.
Ambassador Yao expressed his satisfaction over the ongoing development projects in Bangladesh with Chinese support which include, among others, Padma Bridge rail link, Bangabandhu Tunnel under Karnaphuli river, Mongla port upgrading, extension of Osmani International Airport in Sylhet.
He said that China will take part in the Bangladesh Business Summit to be held in Dhaka from March 11 to 13.
Responding to a question on sanctioned Russian ship heading towards China, the ambassador said he saw the media reports on the issue and hoped that sanctions should not affect common people or cooperation between countries.
He described them as "unilateral sanctions", and not by the United Nations.
On its way to Shanghai, the ship is expected to arrive at the Chinese port on January 31, according tovesselfinder.com which provides real-time vessel data.
jehangirh01@gmail.com