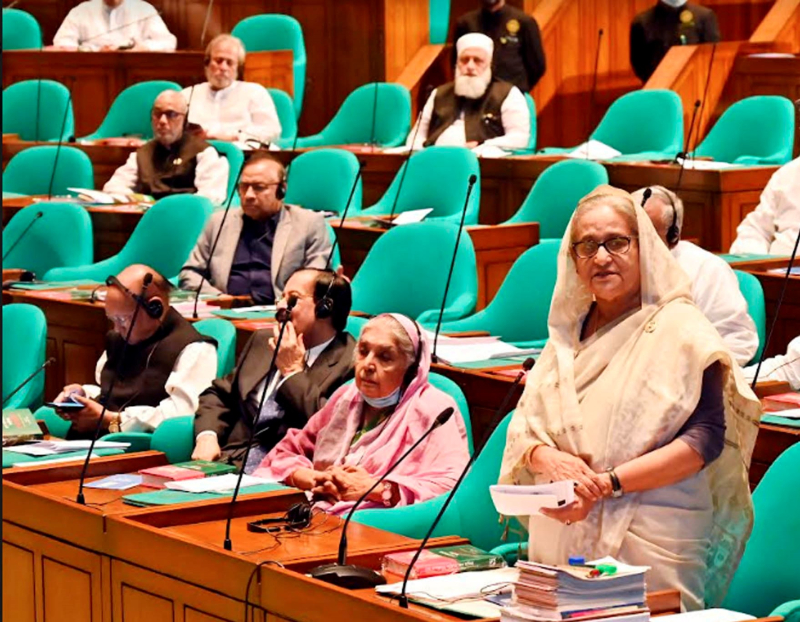 Prime Minister Sheikh Hasina on Sunday apprehended that the present volatile world situation might deteriorate further.

"…no one can say how long this unusual situation of the world will continue. Maybe the situation will worsen further," she said.
The prime minister made the statement while participating in a condolence motion on ruling party lawmaker Afsarul Amin in parliament.
She said that food shortages, inflation, operating and transportation costs, electricity shortages have made everyone's life unbearable in the world.
The leader of the House said that the government has provided electricity to people's homes as promised.
She mentioned that crisis of fuel oil, coal or gas is going on worldwide.
"Now it is very difficult to buy. It has become impossible to buy. Still our efforts will continue."
Hasina said that the government has signed agreements with Qatar and Oman to purchase fuel.
She also said that the government also have taken measures to import hydropower.
"Steps have already been taken to purchase coal. So that we can restart the power plants," she said.
The PM said that the benefits of Independence are reaching people's door as the country is advancing socioeconomically.
She mentioned that Ukraine-Russia war, sanctions, counter-sanctions, global inflation and fuel oil crisis for which not only Bangladesh, but also developed countries are struggling.
"There is a shortage of fuel in various countries including Europe and America. There is load shedding or limiting power consumption. The price of everything from food has gone up. Many people are losing their jobs even in developed countries."
She said that an unusual situation is persisting worldwide.
"I don't know if this has ever happened before. Maybe after World War I. After the Second World War, there was a famine," she said
Hasina reiterated her call to maintain austerity in using electricity.
"We also need to increase food production. We have to try. No one can say how long this unusual situation in the world will last. But for the food safety of the people of our country, we are doing everything to ensure food security."
She said that the food crisis, inflation, operating and transportation costs, electricity shortage in the whole world as a result of the corona virus epidemic and then the Ukraine-Russia war have made the life of every human being unbearable.
"We are doing our best in Bangladesh," she added.
Remembering Afsarul Amin, the PM said that he was involved with BCL since his student life.
He played a role in every struggle. He was a devoted soul. His devotion and honesty towards the party was incomparable.
"He also showed great success as a minister."
Awami League Lawmaker Tofail Ahmed, Land Minister Saifuzzaman Chowdhury, Deputy Minister for Education Muhibul Hasan Chowdhury, ruling party MPs Waseqa Ayesha Khan , Motahar Hossain, Nurul Islam Nahid, Mujibul Haque Chunnu and Masiur Rahman Ranga spoke on the condolence motion.
Later, the House unanimously adopted the condolence motion expressing profound grief over the death of the ruling party lawmaker.
Speaker Shirin Sharmin Chaudhury moved the condolence motion.
A minute of silence was observed and munajat was offered, reports BSS.