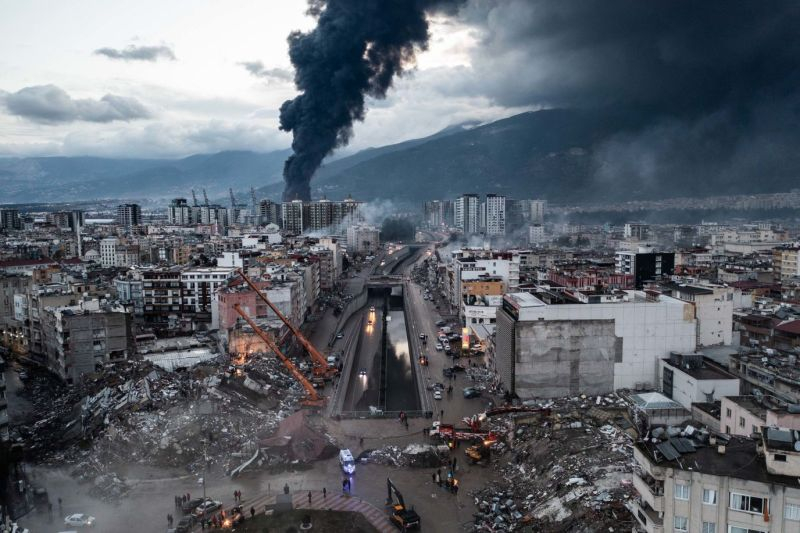 Rescuers busy finding survivors and bodies of earthquake victims in Turkey.

The cataclysmic earthquake that hit Turkey and Syria last Monday, February 6 claiming over 21,000 human lives as of Friday morning has been termed as the worst in a century. The area lies on an active tectonic fault and experienced another big quake in 1999 claiming 18,000 lives in Turkey.

This time hundreds of buildings have been brought down and reduced to rubbles by the powerful 7.8 quake and many other buildings have been shattered. Till Friday the concentration of rescuers was on survivors who screamed being trapped under fallen buildings. Some of them have been rescued while the chance of bringing others out continued to get dimmer as days passed in a freezing environment.
The world community has responded by sending teams of rescuers and relief materials for the earthquake victims of Turkey and Syria. The World Bank has announced 1.78 billion dollars for recovery from the disaster. Bangladesh has also sent a team of Fire Service personnel to carry out rescue operations.
While wishing for success in the bid to rescue trapped people from the rubbles and rehabilitate the affected ones, we would urge the developed countries to deploy more excavators and cranes to expedite the post-quake recovery work. Turkish President Erdogan initially expressed dissatisfaction at the progress of the rescue operation but said later that it was okay now. We however get little information about relief and rehabilitation activities in the Syrian areas devastated by the quake. A convoy with relief materials reached there only a day ago. Meanwhile, another quake that shook Indonesia killed four people as a floating restaurant collapsed.
In Bangladesh, we have to take lessons from the disasters keeping in mind the fact that our country is also in an earthquake zone experiencing tremors from time to time. A major earthquake of 8.3-scale shook this land in 1897 with its epicenter in Assam and claimed about 2,000 lives. We should regularly conduct earthquake alerts and drills to deal with any situation.