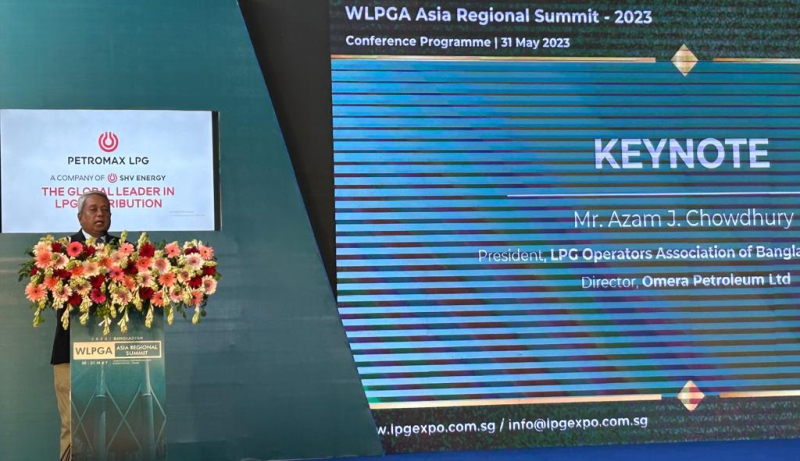 LPG Operators Association (LOAB) has urged the Bangladesh Energy Regulatory Commission (BERC) to frame a safety policy in coordination with other regulators to ensure the use of LPG in industries.

"There is huge scope for use of LPG in industries across the country. But it needs necessary policies and infrastructures to ensure the safe use of this liquefied petroleum gas (LPG)", said President of Bangladesh LPG Operators Association (LOAB) Azam J Chowdhury while addressing a seminar at Asia Regional Conference of World LPG Association at International Convention City Bashundhara (ICCB) on Wednesday.
He said there is a Department of Explosives in the country but it runs with limited manpower. "It needs to be expanded with adequate and efficient manpower and make its presence across the country," he added.
He also said LPG operators need a conducive environment to sustain their businesses.
The seminar was also addressed by BERC Chairman Md Nurul Amin and former director general of the Bangladesh Fire Service and Civil Defence Brig Gen (Retd) Engineer Ali Ahmed Khan.
In another session of the seminar, Bangladesh LPG Auto-gas Station Owners Association has demanded business-friendly policy support to expand the auto gas industry as a green fuel that belongs to an investment of Tk 1,000 crore.
"The government is talking about promoting environment-friendly energy, the auto-gas entrepreneurs are admitting bureaucratic complications to get LPG filling station licenses in terms of policy support," Mohammad Serajul Mawla, president of the association told the seminar.
Making a keynote presentation, he said that there are 800 auto gas stations across the country whose monthly consumption is about 12,000 metric tons while another 200 new stations are under construction.
The business leader urged the National Board of Revenue (NBR) to review the existing 7.5 percent value added tax (VAT) on auto gas considering the government's commitment to promote the environment-friendly fuel like LPG.
"Use of LPG in the transport sector is environment friendly which could reduce the wastage of natural gas," he said adding, at present, LPG is being used as fuel in around 100,00 private cars, microbuses and three-wheelers across the country.
"Government and private sector initiatives are needed to establish LPG auto-gas as an environment-friendly fuel. And in this regard Auto-gas Association wants to work together with the government,"  Mawla said.
Among others, World LPG Association managing director James Rockall, director David Taylor and Bangladesh Auto-gas Association Secretary General Hasin Parvez were present at the seminar, reports UNB.