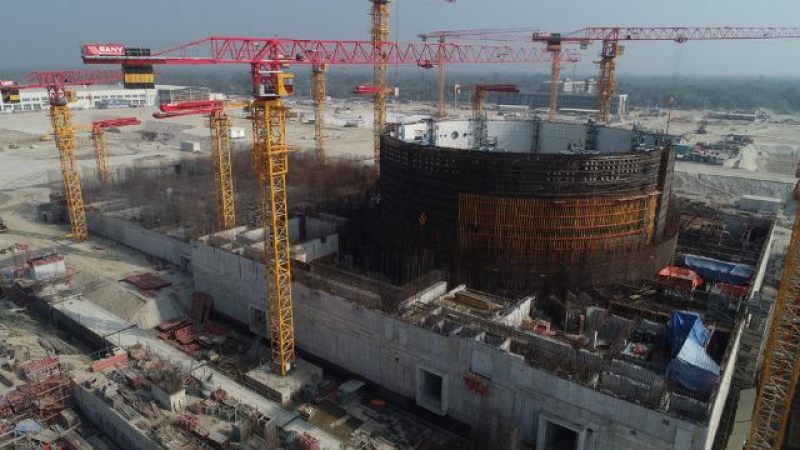 Rooppur Nuclear Power Plant constructgion in progress.

Jehangir Hussain

Bangladesh officials are scheduled to hold a meeting with Russian counterparts to settle the issue of repayment of about $210 million in loans for the Rooppur Nuclear Power Plant (RNPP).
Bangladesh government has so far failed to repay three installments of the $ 500 million it had borrowed from Russia to hold feasibility and infrastructure development studies of the nuclear project.
Bangladesh failed to pay these amount as the Society for Worldwide Interbank Financial Telecommunication (SWIFT) system put sanctions on some Russian banks following Russian invasion of Ukraine.
The western countries suspended a number of Russian and Belarus banks from the SWIFT system, following that, Bangladesh Bank asked all the scheduled banks to stop transactions through the SWIFT system with Russian banks, which have been sanctioned over the Ukraine invasion.
To settle the money matter, Russia proposed Bangladesh to repay their outstanding loans in ruble or through a third country, however, Bangladesh disagreed due to currency-exchange risk and some technical problem in repayments.
"Now the outstanding dues stand at $ 210 million, we are not able to pay the bill as there is no system of payment," officials said.
Bangladesh and Russia signed a $11.38 billion loan agreement for the RNPP in 2016. It has so far repaid nearly $5.0 billion, according to the Ministry of science and Technology.
Following repeated Russian pressure, the Bangladesh-Russia Inter-governmental Commission on Trade, Economic, Scientific and Technical Cooperation (BR-IGC), held three day meeting from March 13-15 virtually. However, the issue of repayment of the outstanding installments remain unsettled.
"We've informed Russia that it is not possible to settle the issue through virtual meetings (JEC meet). It's better to discuss in person for reaching a better solution, either they will come or we will go very shortly there," a senior official said.
The Russian delegation was led by the Head of the Federal Agency for Fisheries of the Russian Federation Ilya Shestakov, while the Bangladeshi delegation was headed by Secretary of Economic Relations Division, Ministry of Finance of the People's Republic of Bangladesh Sharifa Khan. But they failed to reach a settlement.
jehangirh01@gmail.com