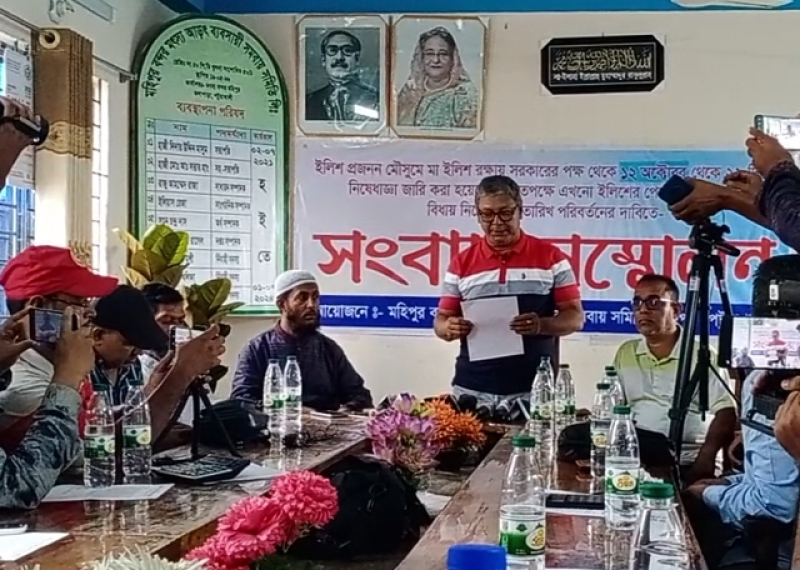 Press conference in Kalapara for postponement of Hilsa netting ban on Tuesday.

Patuakhali: Mahipur fish warehouse owners' association held a press conference demanding postponement of ban on hilsa breeding season in Kalapara of Patuakhali. Today, Tuesday (September 26) at around 11 o'clock the news conference was held at Mahipur fish warehouse owners' association office. Fish warehouse owners' association president Didar Uddin Ahmed Masum read the written statement. At that time, the general secretary of the association Raju Ahmed Raja, organizing secretary Elyas Reza, Majnu Gazi and other fishermen were present.

At the press conference, Didar Uddin Ahmed said, "Mother Hilsa has not yet got an egg in her stomach. Hilsa suitable for breeding is still not found in rivers or sea estuaries. However, he pointed out that the Fisheries Department has imposed a ban on hilsa hunting for 22 days from October 22. Traders demanded that the ban be delayed by another week from October 30."
In his written speech, he also said that due to climate change, there has been a change in the lifestyle of hilsa in the deep sea. In this, the mother hilsa will acquire the ability to breed late. In light of this, he demanded that October 30 instead of October 22 be delayed by a week. Otherwise, they think that the government's action to protect hilsa breeding will end in failure. - Gofran Biswas Palash