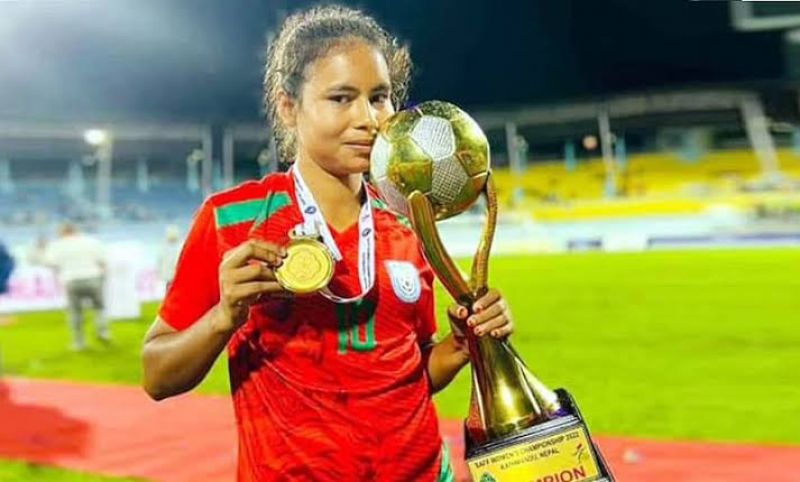 Rangpur's daughter Sirat Jahan Shopna, member of the Bangladesh women's football team, has made its residents proud with her role in the team to clinch the title in the seven-nation SAFF Women's Championship.

Those who once mocked Shopna for her dream to become a footballer are now overjoyed with her success.
In fact, the whole district is now overwhelmed for Shopna from Palichora village of Sadyapuskarini Union, over historical triumph against Nepal in the tournament's final.
In this tournament, Bangladesh beat India 3-0 with Shopna scoring a pair of goals. She scored one goal against Pakistan.
In the final, Shopna was withdrawn due to injury soon after the kick-off.
In all, she scored four goals in this tournament.
Shopna's mother Lipi Begum used to get angry with her for her interest in football. Later, she surrendered to the girl's indomitable will and encouraged her daughter to fulfill her dream.
Lipi said Shopna grew interest in playing football when she was in class four.
"My brother Abdul Latif took Shopna to groom her to be a footballer and since then she is moving towards her dream."
Shopna's father Moksar Ali, a farmer, is also overwhelmed with his daughter's success.
He said, "I feel very happy. The Bangladesh women's football team won today and my daughter played in it."
He also sought the people's prayer so that she can do something better for the country.
Fans and journalists are thronging Shopna's home to congratulate her parents.
Milon Khan, the coach of the newly formed Youth Sporting Club of the union, said this village is a village of women footballers.
"This is the first time that one of our daughter Shopna earned fame winning the SAFF Championship. We have plans to give her a grand reception," he added.
Bangladesh national women's team reached Dhaka around 1:50 pm today.
After completion of the airport formalities, the heroes of Bangladesh boarded a newly shaped and well decorated open deck BRTC bus at about 3:30 pm for the BFF office in Motijheel from the airport.
Along the way, they were greeted by thousands of jubilant fans.
On Monday, Bangladesh defeated Nepal 3-1 in the final match, with Shamsunnahar scoring the game's first goal in the 13th minute. Krishna Rani Sarkar scored the final two goals for Bangladesh in the 42nd and 77th minutes, ensuring the nation's first SAFF Women's Championship title, reports UNB.