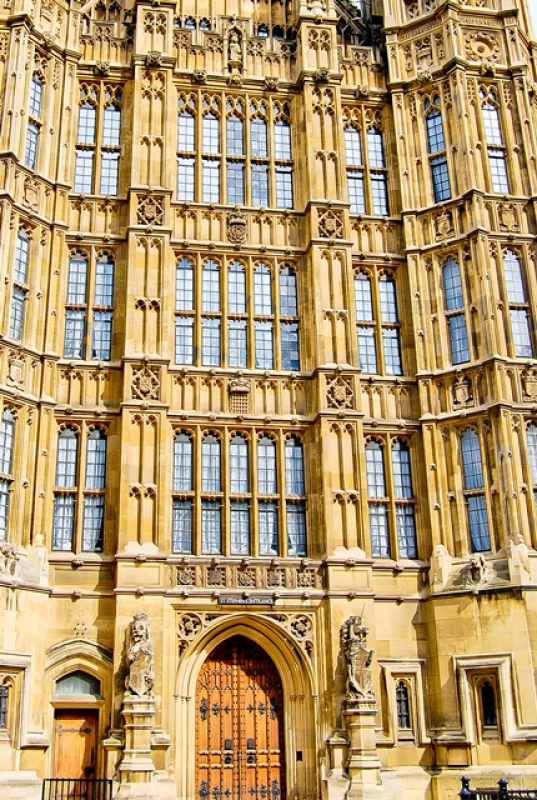 British Parliament. Wikimedic Commons.

Jehangir Hussain

Brexit had "failed", Farage had said. Britain had "not actually benefited … economically" from leaving the EU. And who was to blame for this sorry state of affairs? "Useless" Tory governments, Kiran Stacey, Rowena Mason, Ben Quinn and Aletha Adu wrote in the Guardian.
Sunak bristled at these remarks. "I voted for Brexit, I believe in Brexit … as chancellor and prime minister I am actually delivering the benefits of Brexit as opposed to talking about it," he said.
He had reason to feel sensitive. More serious than Farage's jibes was what had prompted them: a warning from the carmaker Stellantis that it would close manufacturing operations in the UK if the government did not renegotiate its trading terms with the EU.
Stellantis, which was quickly followed by other carmakers such as Jaguar Land Rover and Ford, said it would not be able to comply with incoming rules requiring 45% of its cars to be made in the UK and EU to avoid tariffs, because most electric vehicle batteries are still made in China. Unless these so-called "rules of origin" were delayed, Stellantis said, it would be forced to pull some of its manufacturing out of the UK.
And the prime minister knew that worse was to come. Next week, the Office for National Statistics will publish figures showing another surge in net immigration, which may have hit close to 1 million in 2022. Given that the Tories were elected in 2019 on a promise to bring net immigration down from its level at the time of about 250,000 a year, this would be a major policy failure.
Alastair Campbell, a former Labour media adviser, said: "The public have been seeing the Brexit failure for some time now … It's clearly going even worse than people said it would. Despite the propaganda in rightwing press, people have just wised up to the fact that what was promised has not been delivered and what we were told wouldn't happen has happened."
It is not just prominent remainers like Campbell who believe that Brexit is not working: voters agree. About 35% of voters now think it was right to leave the EU, and roughly 55% say it was wrong.
According to YouGov, only one in five voters now think the Tories are best placed to manage Brexit, with almost the same number saying it would be Labour – a stark contrast with three years ago, when 40% of voters believed the Tories would be best and just 13% said it would be Labour.
Those poll findings were underlined by this month's local election results, in which Labour achieved a bigger swing in leave areas than in remain ones.
John Curtice, a professor of politics at Strathclyde University, said: "[This shift] is being driven in part by the views of people who didn't bother to vote in the 2016 referendum, but it is also true now that the loyalty of leave voters is weaker. Liz Truss not only destroyed the reputation of her party for economic competence, she also added to a tendency towards some movement in relation to Brexit and the regrets of people who were leavers."
The difficulties with Brexit may be becoming clearer to some voters, but the question remains as to what the two main parties are going to do about it. Keir Starmer insists Labour will not rejoin the EU or the customs union. But this leaves room for the party to argue for closer relations in a number of different areas, from defence cooperation to science funding.
This week, Starmer allowed himself to appear more pro-EU than at any other time in his three-year leadership so far. First, he suggested EU citizens should be allowed to vote in general elections, in what would amount to a massive expansion of the British franchise. He told LBC: "If someone has been here 10, 20, 30 years, contributing to this economy, part of our community, they ought to be able to vote."
And then, when asked by Sky News whether the warnings from car manufacturers should prompt a renegotiation of the post-Brexit trade deal, Starmer replied: "Yes, we want a closer trading relationship."
David Lammy, the shadow foreign secretary, said Labour was aiming to use the 2025 review of the trading agreement to change some of its terms. "We will use that review to reduce friction for British business, remove unnecessary barriers for trade in services and ensure our world-leading research and development sector can thrive through access to cross-border cooperation," he said.
Experts say, however, that the changes under consideration are unlikely to provide a major boost to the UK's sluggish growth. Anand Menon, the director of the thinktank UK in a Changing Europe, said: "What Labour is proposing is sensible fiddling around the edges. They might be able to help musicians tour more easily, or farmers trade, but it will be pretty trivial in aggregate economic terms."
Even if Starmer's proposals are minor in comparison with the economic problems facing the country, they still have the potential to trigger outrage. His comments about voting and about trade earned him negative front-page headlines in rightwing newspapers and were hastily "clarified".
No, he had no immediate plans to expand the franchise, he told the Times on Wednesday. And no, his plans to tweak the UK-EU trading arrangements did not amount to full-scale "renegotiation", his press team insisted on Thursday.
For all the problems Brexit is posing for Labour, the problems are far worse for Sunak and the Tories. Despite Sunak having campaigned to leave the EU, Conservative party observers say he is not trusted by leavers who have changed their mind, or by those who still think it was the right thing to do.
"The immigration thing is huge, given that a huge part of the vote for Brexit was regaining a sense of control over our borders," said Tim Montgomerie, the founder of the Tory grassroots website ConservativeHome. "Sunak has steadied the ship, but he doesn't seem to the average Brexiteer as someone who gets why we voted for Brexit. Many don't even believe he really voted for Brexit."
The two party leaders grasp one more important truth, say their advisers: they both know that even if they wanted a major overhaul in post-Brexit relations with the EU, the 27 member nations would be unlikely to grant it.
"If we win the next election, we will have a lot of things we need to achieve in a short space of time," said one Labour adviser. "There is no way we want to be pitched into protracted negotiations with the EU in the middle of all of that."
Montgomerie said: "Brexit, whether you think it was right or wrong, is safe."
jehangirh01@gmail.com