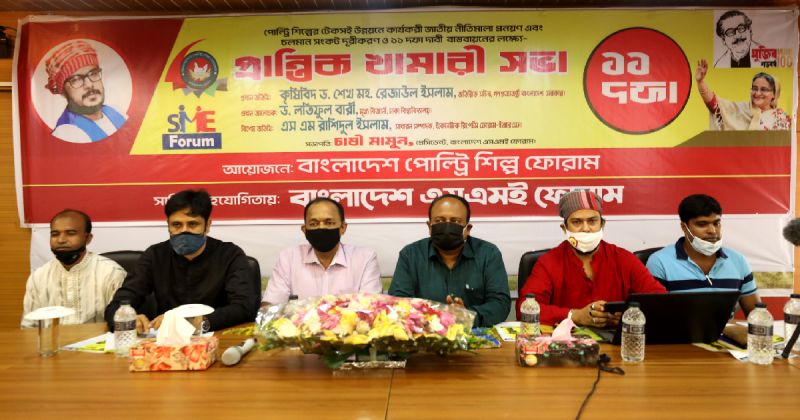 Poultry growers have placed 11 demands to check the illogical price hike of poultry feeds and chicks.

Dhaka, Oct 9 : Poultry groPoultry growers have placed 11 demands including access to easy and soft loans for the grassroot level poultry farmers through stimulus package, and checking the illogical price hike of poultry feeds and chicks.

Bangladesh Poultry Industry Forum (BPIF) placed the demands at a discussion meeting, organised by Bangladesh SME Forum, at Economic Reporters Forum (ERF) Auditorium in the city on Saturday.
With President of both Bangladesh SME Form and Bangladesh Poultry Industry Forum M Mamun in the chair, the event was addressed by former additional secretary Dr Sheikh Rezaul Islam, Dhaka University teacher Dr Latiful Bari, ERF general secretary MM Rashidul Islam, Borhanuddin, Abdur Rahim, Lotus Parvez, Manik Sheikh, Sujan Sarker, Tahmid Hasan and Masuma Khatun.
The BPIF leaders said the poultry industry has been experiencing a severe crisis due to recent increase in the price of its raw materials including feeds and chicks.
"A strong syndicate of unscrupulous business has been responsible for the recent crisis and the government should find them out to punish them," said M Mamun.
The BPIF leaders alleged that although the poultry products are selling at higher prices in the local market, the actual farmers at the grass root levels are not getting the benefit of it.
Rather, a middle group is being benefited from the increased price of the products, they observed.
They also said that the industry owners are not receiving due financial support from the government although a stimulus package was announced for the industrial sector.
Many poultry owners had to shut down their industries facing a huge loss in the business during the Covid-19 pandemic situation.
The farmers are now switching to other businesses from this losing concern, they observed.
They also demanded formulating a pro-industrial policy to support the poultry industry, reports UNB.