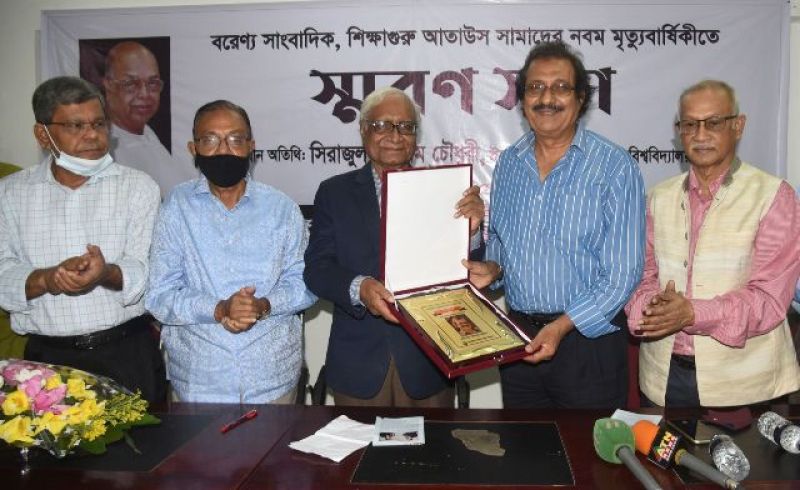 Ataus Samad Memorial Award being handed over to Photojournalist Rafiqur Rahman on Sunday September 26.

Reuters Bangladesh photojournalist Rafiqur Rahman won the Ataus Samad Memorial Award given by the Ataus Samad Smrity Parishad at the National Press Club on Sunday.

Professor emeritus of Dhaka University Serajul Islam Chowdhury was the chief guest at the function presided over by Poet Hasan Hafiz who is the convener of the Ataur Samad Smrity Parishad.
Mostafa Kamal Majumder speaking at the Ataur Samad Memorial meeting at National Press Club on Sunday September 26.

Former president of the National Press Club, Reazuddin Ahmed was the special guest at the function which was also addressed by Prof. Golam Rahman, Editor, Ajker Kagoj, Poet Helal Hafiz, Mostafa Kamal Majumder, Editor-in-Charge, The New Nation and Editor, GreenWatch, Dhaka, Naimul Islam Khan, editor, Our Time, Shaukat Mahmud, former president of the National Press Club, Shamsul Huq Zahid, Deputy Editor, The Financial Express and the recipient of the Award Rafiqur Rahman among others.
Prof. Sirajul Islam Chowdhury recalled the great services rendered by Ataur Samad who was the Bangladesh Correspondent of the BBC Radio for a long time and said his reporting contributed to strengthen the democratic movement in the country.
The called for unity of the journalist community of Bangladesh for the greater good of the people and the country to serve objective news on how economic inequality increased both nationally and globally at the cost of the common man.
Other speakers made recollections on their personal involvements with Ataus Samad and Rafiqur Rahman both of whom made tireless efforts to depict the society accurately without any personal bias. Today's journalists can draw lessons from their examples, they said.
Meanwhile, A total of five meritorious students of the Department of Mass Communication and Journalism of Dhaka University (DU) on Sunday received Ataus Samad Trust scholarships for their excellent academic results in BSS examinations of 2018.
Besides, journalist Abdul Gaffar Choudhury received 'Ataus Samad Memorial Trust Lifetime Achievement Award' at a program held at Muzaffar Ahmed Chowdhury auditorium at the University of Dhaka.
DU Vice-Chancellor Prof Dr Md Akhtaruzzaman handed over the award and scholarships among the recipients as the chief guest at a function organised by the Department of Mass Communication and Journalism.
DU Mass Communication and Journalism department Prof Dr Kaberi Gayen presided over the function.
The recipients of 'Ataus Samad Memorial Scholarship' are Istiak Ahmed, Md. Nazmul Hossain, Mostofa MdTahan, Ishratul Jahan Shova and Tareq al Hasan. – GW News Desk