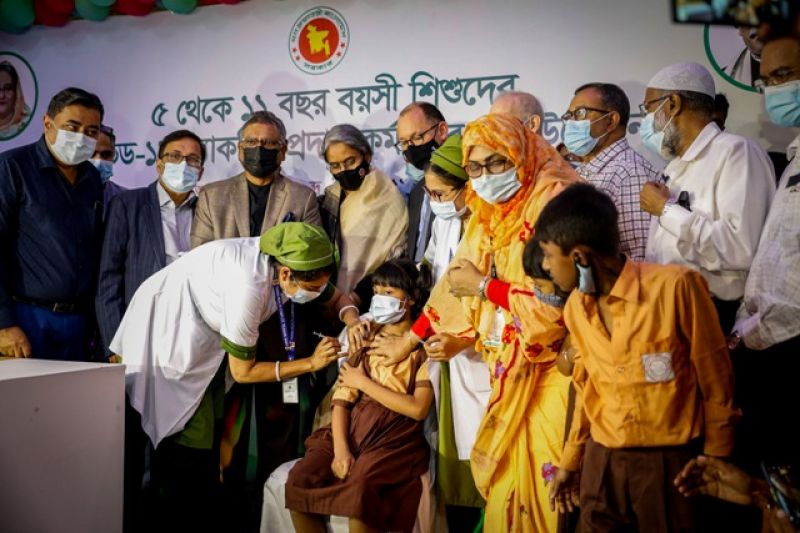 US Ambassador Peter Haas at the lunch of paedriatic covid-19 vaccination on Thursday

U. S. Embassy joined the Ministry of Health and Family Welfare, the Ministry of Education, and international partners to launch Bangladesh's national campaign to vaccinate children between ages 5-11 with pediatric doses of U.S.-donated Pfizer vaccines.

Dhaka, August 11, 2022 — Today, U.S. Ambassador Peter Haas joined Health Minister Zahid Maleque and Education Minister Dr. Dipu Moni to launch the national campaign to administer U.S.-donated Pfizer pediatric COVID-19 vaccines to Bangladeshi children ages 5-11. UNICEF Country Representative Sheldon Yett, and other Bangladeshi government officials and representatives of international organizations attended the special event, at which the first group of young Bangladeshis received their first shots.
The United States recently donated over three million pediatric doses of Pfizer vaccines and committed to donating a total of over 40 million (4 crore) pediatric doses. U.S. support for this new children's COVID-19 vaccination campaign includes over $7.3 million and comes alongside other assistance from COVAX.
"This is a remarkable step for kids, for parents, and for the entire nation. We hope these vaccines enable young Bangladeshis to return to more normal lives to pursue their studies and dreams more fully," said Ambassador Haas. – US Embassy press release