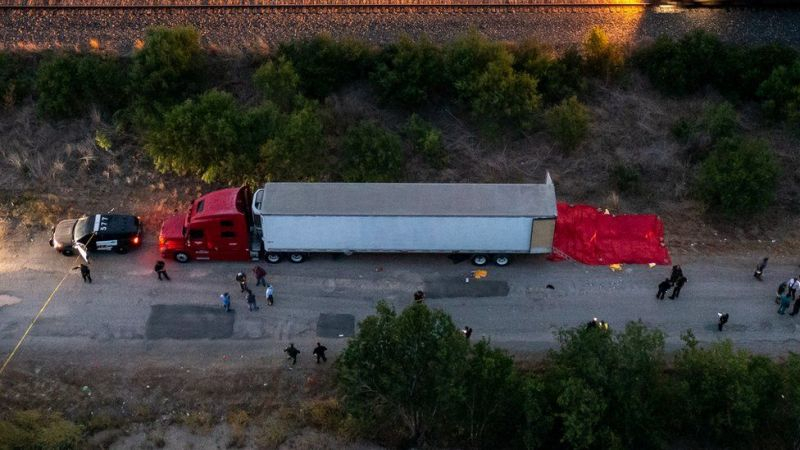 migrant deaths in truck

Jehangir Hussain

In case of death or dismemberment of an expatriate who paid Tk 1,000 as premium while traveling abroad, she or he and her or his family will get up to Tk 10 lakh as compensation from the Jeeban Bima Corporation.
And if she or he loses his or her job and returns to Bangladesh within six months, he or she will get Tk 50,000 as compensation from Jeeban Bima Corporation.
Keeping these benefits, the Wage Earners Welfare Board on Sunday signed an agreement with the Jeeban Bima Corporation.
In 2019, the government introduced compulsory insurance coverage for expatriate workers.
A maximum compensation of Tk two lakh was paid against payment of Tk 990 as premium.
Under new insurance rules, 18 to 55-year-olds can take policy for five years.
In case of death in accidents even after 90 days of payment of premium, a worker's family will get full Tk 10 lakh.
Full compensation will be paid in the event of loss of sight, amputation of wrist and ankle.
If a finger or toe is amputated, Tk one lakh would be paid as compensation.
However, the worker's family will not get compensation if he or she commits suicide within six months of payment of premium.
Apart from this, no insurance benefit will be given in case of death caused by AIDS or taking drugs.
Jeeban Bima Corporation will spend 50 per cent of its profits on expatriates through the Wage Earners Welfare Board.
Speaking as the chief guest at the agreement signing ceremony, Expatriate Welfare Minister Imran Ahmed called it as "unprecedented benefits" for the expatriate workers.
The agreement was signed by Mizanul Haque Chowdhury, Managing Director of Jeeban Bima Corporation and Hamidur Rahman, Director General of Wage Earners Welfare Board on behalf of their respective organisations.
jehangirh01@gmail.com