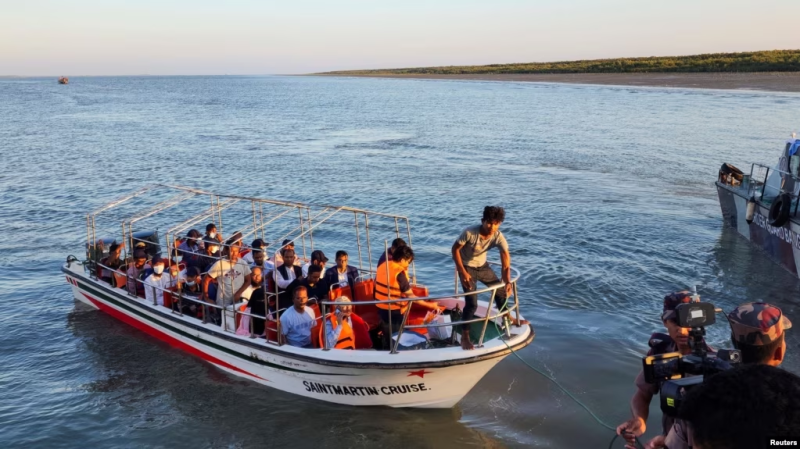 Teknaf cruise boat brings back tourists from Saint Martin Island recently. Courtesy - VOA news.

As Bangladesh and Myanmar gear up to repatriate about 1,100 Rohingya refugees in a pilot project, rights group Human Rights Watch, or HRW, says conditions in Myanmar's state of Rakhine are still not favorable for sustainable repatriation of Rohingya refugees.

"Bangladesh and Myanmar are organizing returns of Rohingya refugees from Bangladesh to Myanmar's Rakhine State without consulting the community or addressing the grave risks to their lives and liberty," the HRW statement released on May 18 said.
"Donor governments and United Nations experts should call for a halt to any Rohingya repatriation until conditions are in place for safe and sustainable returns."
One Rohingya refugee, who was in a group that visited Myanmar earlier this month to see the resettlement camps, told VOA that none of the refugees would be willing to live in the detention-like camps authorities have built for the Rohingyas in Rakhine.
The refugee, who does not want to be identified fearing reprisals, said, "None in our Rohingya team is satisfied seeing the situation on the ground in Rakhine. We will not return to Myanmar until the government agrees to accept our conditions, including the return of our full citizenship rights."
Third repatriation attempt
To escape persecution and violence in Myanmar, minority Rohingya Muslims have for decades fled to neighboring Bangladesh, where more than 1.2 million of them now live, in congested shanty refugee colonies.
After some 750,000 Rohingya crossed over into Bangladesh in 2017 following a brutal military crackdown in Rakhine, international pressure forced Myanmar to agree to take back the Rohingya refugees.
But efforts to repatriate the refugees failed in 2018 and 2019 after they refused to return home, saying they still felt unsafe living in Rakhine and that Myanmar authorities had not accepted their demands, including restoration of their full citizenship rights.
Currently, in a China-backed initiative, Myanmar and Bangladesh are making another effort to restart repatriation of approximately 1,100 Rohingya refugees in a pilot project before the monsoon season begins in June-July.
On May 5, Myanmar and Bangladesh authorities took 20 Rohingya refugees from the Cox's Bazar refugee camp on a guided tour to Rakhine to see the resettlement facilities built for them.
The refugees who toured Myanmar this month said on their return that they were not in favor of the government-planned repatriation because under current conditions Rakhine is still unsafe for them.
"[The Myanmar officials] didn't answer our questions about whether we would ever be given back our land," one of the refugees who toured Myanmar told HRW.
"Rohingya refugees have consistently said they want to go home but only when their security, access to land and livelihoods, freedom of movement and citizenship rights can be ensured," the HRW statement said.
The refugee who toured Rakhine earlier this month and spoke to VOA privately, noted, "In the resettlement camps, movements of the Rohingyas will be heavily restricted, and it will make the livelihood-related activities suffer badly. The military is in power in Myanmar. Life in these camps is not going to be safe and peaceful."
Htway Lwin, a Cox's Bazar-based Rohingya community leader and human rights defender, said he had an extensive discussion with many refugees, and they all said that they do not want to return to Rakhine under current conditions.
'Not yet safe'
"Their overwhelming sentiment is a desire to return to their homeland as soon as possible, but they feel that it is not yet safe to do so due to the lack of a secure environment in the Rakhine State. This reluctance stems from the fact that the Military Council still refers to Rohingya as Bengalis and intends to issue national verification cards [NVCs] that would effectively render them illegal immigrants in Myanmar," Lwin told VOA.
After a controversial Citizenship Law stripped the Rohingya of their citizenship rights in 1982 and made them stateless, the authorities have been forcing the community members to accept NVCs. Rohingyas have widely rejected the NVC process, however, because it effectively identifies them as foreigners and restricts their movement and livelihood-related activities.
In the HRW statement, Shayna Bauchner, the organization's Asia researcher, said authorities in Bangladesh "shouldn't forget the reasons why Rohingya became refugees in the first place and recognize that none of those factors have changed."
"Bangladesh is frustrated with its burden as host, but sending back refugees to the control of a ruthless Myanmar junta will just be setting the stage for the next devastating exodus," she wrote.
Rohingya refugees want to go back to their homes in Rakhine one day, "but only when they can be safe and free in Rakhine," Bauchner emphasized in an email to VOA.
"Those conditions don't exist today, with Min Aung Hlaing, who orchestrated acts of genocide against them, sitting in Naypyidaw, buying arms from Russia and carrying out crimes against humanity and war crimes around the country," she said.
The director of rights group Fortify Rights, John Quinley, said the Rohingya continue to face persecution by the junta in Rakhine.
"The junta is an illegal regime that is brutalizing its people, including the Rohingya. It continues to create conditions designed to be destructive against the minority Muslim community. What the junta is doing is genocide by attrition. Until the perpetrators are held accountable, atrocities will continue against the Rohingya," Quinley told VOA.
"Rohingya are indigenous to Myanmar. They should be welcomed back, and all their rights restored unconditionally." – VOA News