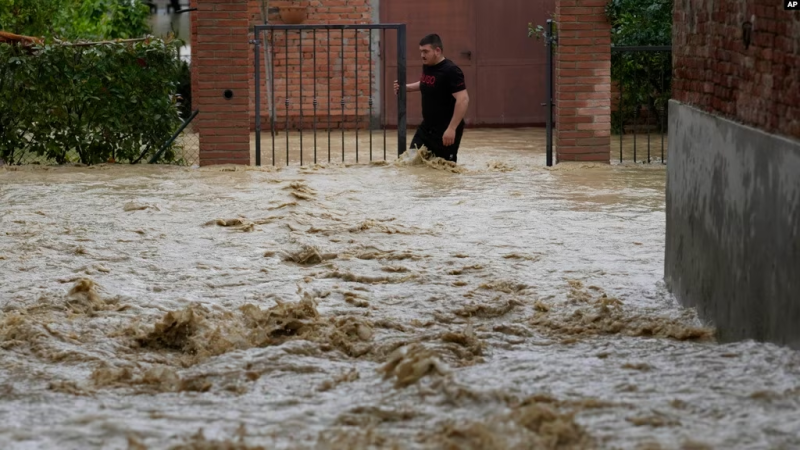 A man walks in a flooded street in the village of Castel Bolognese, Italy, May 17, 2023. AP via VOA

FAENZA, ITALY — Italy received offers of international aid on Friday for floods, described as its worst for a century, which killed 14 people and left thousands stranded in waterlogged homes or in evacuation centers.

As some areas began the clean-up following downpours earlier this week, others were newly evacuated on Thursday and authorities extended a red weather alert in parts of the Emilia Romagna region, where nearly two dozen rivers have broken their banks.
A mammoth rescue effort is underway after six months' rain fell in 36 hours, with emergency services and the armed forces searching for people stuck in their homes -- and those who lost their lives.
The latest victim found was a man recovered from a house in Faenza, a picturesque city usually surrounded by green pastures and vineyards left largely under water.
"As Italy reels from the worst flooding there in a century, WHO Europe sends condolences for the lives lost," tweeted Hans Kluge, World Health Organization regional director for Europe, saying it was "ready to support... as needed."
Italian Prime Minister Giorgia Meloni shared images of the disaster with fellow G7 leaders at their summit in Japan, prompting French President Emmanuel Macron to tweet that France was "ready to provide every useful help."
Stefano Bonaccini, head of the Emilia Romagna region, called for a national plan to mitigate the impact of natural disasters, saying: "This must never happen again."
More than 15,000 people have been evacuated from their homes across the region, as farmers survey the damage that Bonaccini has compared to an earthquake.
Over half the evacuees were expected to spend the night in local refuge centers set up in gyms or hotels.
Others received hot meals from mobile kitchens deployed in several cities.
'Lost everything'
AFP reporters in Faenza found residents shoveling mud out of their homes, piling sodden mattresses, clothes and furniture together in mountains of waste.
"I lost everything except for these pajamas," said Fred Osazuwa, 58, as he surveyed the mess left of his home. VOA news