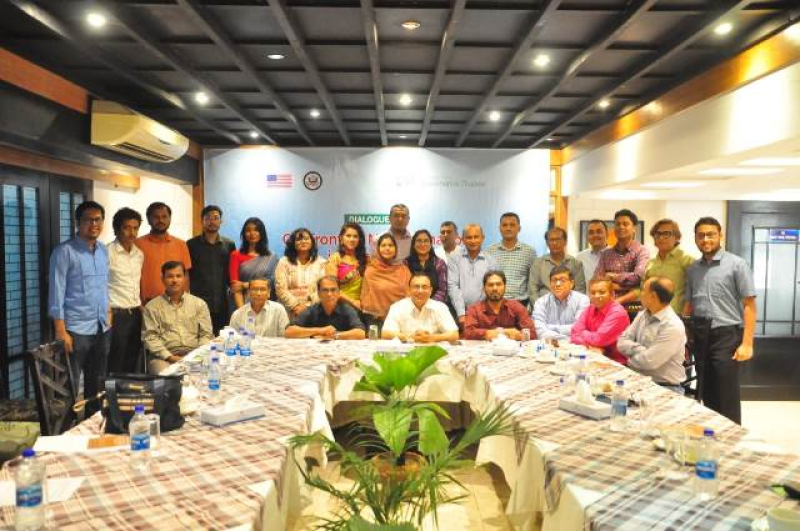 CGS held a dialogue on misinformation in Bangladesh in Chattogram on Wednesday.

Dhaka, Mar 16 - To tackle the growing concerns surrounding fake news in Bangladesh, the Centre for Governance Studies (CGS), in collaboration with the US Department of State, organized a dialogue titled "Confronting Misinformation in Bangladesh". The event was held at Well Park hotel in Chattogram yesterday.

Zillur Rahman, CGS executive director gave the event's opening speech and discussed the importance of preventing misinformation in Bangladesh.
He added that journalists can play a key factor in minimizing this issue along with the fact-checker. He also included the objective and summary of this dialogue session.
The dialogue is part of a series of sessions aimed at understanding how misinformation is produced and recirculated in Bangladesh.
The attendees comprised journalists, senior editors, professional fact-checkers, and social media influencers.
Speakers including Zahid Newaz Khan, chief news editor of Channel i, and Qadaruddin Shishir, fact check editor at Agence France-Presse (AFP) shared their thoughts and insights.
The speakers and the participants noted that the source of misinformation should be identified and the verification problem can be mitigated if people are more cordial and utilize online technology.
The need for accurate and diverse information to reach everyone, especially minorities, was emphasized.
The speakers agreed that preventing the spread of fake news and misinformation is crucial to ensuring trustworthy journalism and upholding democracy.
Zahid Newaz Khan said, "We are currently living in a postmodern era where fake news permeates everything, most politicians spread false information, and journalists disseminate that news on their own initiative."
He emphasized that social media is playing a significant part in this and that, with the development of AI, the preferences and personal beliefs of a person usually come first.
Cross-checking should be standard practice in journalism, but these days people are so quick to accept information at face value that they do not even bother to examine the sources, said Zahid.
He also mentioned, "We should have common sense and be cognizant of sharing our posts and thoughts wisely and consciously."
Qadaruddin Shishir gave his account of how fact-checking led to the discovery of some false information. He issued a warning about considering journalism to be the avatar of truth.
He also made note of the fact that certain major newspapers run showy headlines that have little to do with the actual story, which causes enormous issues because most readers only read the headlines rather than the whole story.
Finally, he advised the journalists to shoulder some of the blame for reducing fake news and be cautious about disseminating ambiguous and inaccurate information on social media.
After the roundtable discussion, participants took part in a survey and a focus group discussion to provide more in-depth information and their perspectives on fake news.
The data collected during these dialogues will be used to enhance the capacity of journalists and encourage social media influencers in Bangladesh to effectively counter misinformation, particularly during election periods.
The discussion was moderated by Zillur Rahman. - UNB