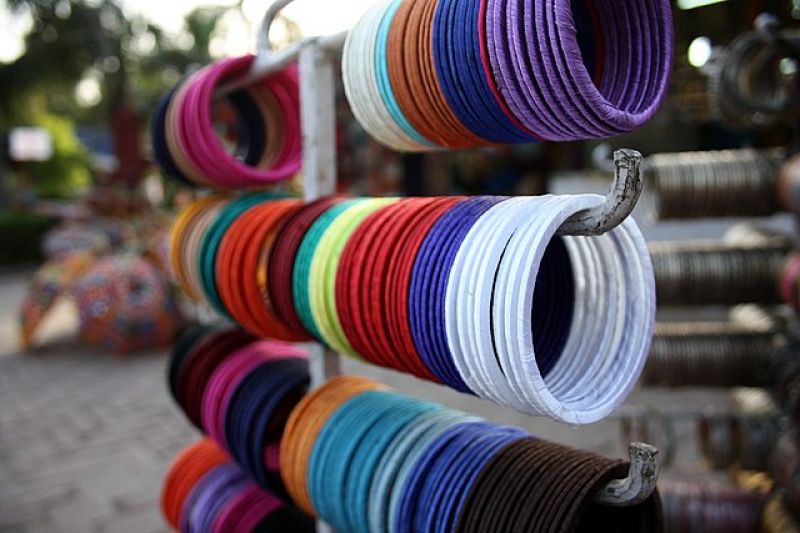 Bangles. Pallav.journo. Creative Commons.

Bagerhat, Nov 24 – A supporter of a defeated female candidate (in reserved wards) of the recently held second phase of the Union Parishad elections in Bagerhat's Kachua, alleged that he was made to wear bangles by the winners.

Victim Mosharraf Sheikh, 71, of Gimtakathi village of Kachua upazila, held a press conference in this regard at Bagerhat press club on Tuesday.
Reading out a written statement at the press club, the victim said that the incident took place after the election results were announced on Nov 20. Bali Shokrana Rabbani Azad, one of the winning UP member candidates of Ward 1 of Sadar Union of Kachua Upazila, with his workers visiting the house of Mosharraf and forcing him to wear Bangles.
Mosharraf said that he was a supporter of Selina Begum Sally, the female member candidate of reserved wards 1, 2 and 3. As she had lost the election, Mosharraf as her supporter was humiliated in front of the villagers.
"Locals came home to see me wearing bangles. How do I live in this society with such humiliation? If I don't get justice I will have no option but to die," cried the old man at the press conference.
He alleged that 15 to 20 people, including the winning UP member Azad and his supporters Iktiar Hossain and Shahidul Sheikh of Hazrakhali village, went to his house on Monday afternoon after the election results and threatened him in various ways. At one point, Azad forced him to put on bangles in front of his family members, including his wife and daughter-in-law.
They then announced in the area that Mosharraf was made to wear bangles when the locals in groups came to visit him in such condition.
Asked about the allegations, Bali Shokrana Rabbani Azad denied it all and said that his opponents in the area had brought completely false and baseless allegations to tarnish his image.
He claimed that no such incident has occurred in the area. - UNB