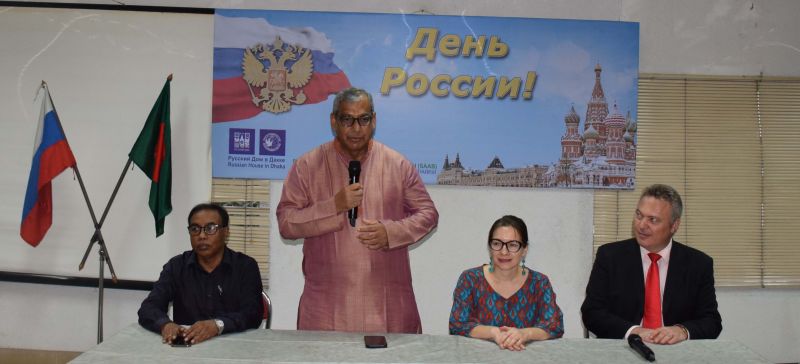 Embassy of the Russian Federation in Dhaka on Sunday (12 June) held a programme marking "National Day of Russia" with the participation of Minister of Agriculture Dr Muhammad Abdur Razzaque, State Minister of Local Government and Rural Development Swapan Bhattacharjee, representatives of the diplomatic corps, members of Soviet Alumni Association, Bangladesh (SAAB) and others invited guests.

The programme ended with the performance of the artists from Alexandrov Academic Ensemble of Song and Dance of the Russian Army.
The National Day of Russia was also celebrated at the Russian House in Dhaka. SAAB President Taqsem A Khan, Bangladesh-Russia Friendship Society General Secretary Prof Dr Md Shahidullah Sikder, Ekaterina Semenova, Minister-Counselor of the Russian Embassy in Bangladesh, and member of the Association of compatriots "Rodina" Olga Roy attended the meeting. The participants of the event highlighted the deep ties between Bangladesh and Russia and recalled the role of the USSR in the liberation war and the post-war reconstruction of Bangladesh, read a media release.