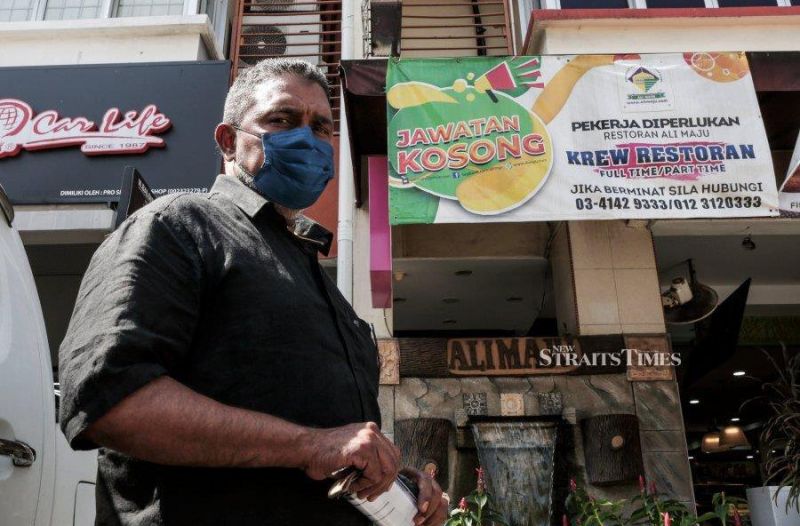 The manpower shortage which hit the food services and restaurant sector since the Covid-19 pandemic began had forced more than 2,000 mamak restaurants to close their businesses since 2020.
Most of the foreign workers hired had returned home due to expired working permits, while some were stranded in their country of origin during the pandemic after returning there for a holiday. Additionally, there were difficulties in obtaining local workers to fill the vacancies, reports New Strait Times..
Malaysian Muslim Restaurant Owners Association (PRESMA) President Datuk Jawahar Ali Taib Khan said the manpower shortage was critical, adding that it created a major impact on the food services industry and foreign workers were banned from entering country during the various phases of the movement control order (MCO).
"Of the 12,000 registered PRESMA members, some 2,000 members have closed their operations in the last two years because of several factors, one of which was the lack of manpower.
"Although we are currently offering opportunities to locals there is no response from Malaysians to work in mamak restaurants.
"As a result, association members now have been reduced to only about 10,000 people because many have been forced to completely close their restaurant due to the difficulty in recruiting workers," he said.
Jawahar Ali added that many restaurant workers had previously used MyTravelPass to return home for holidays before the MCO was enforced but they could not re-enter the country because of the pandemic. The situation had affected mamak restaurants nationwide.
"Although there is no MCO, and the economic situation is improving, the worker shortage continues to affect restaurant operations.
"Some mamak restaurants have been forced to operate with fewer employees. They are focusing on how best to serve their customers. When it involves customers it gives a direct impact to us," he told Berita Harian today.
Jawahar Ali said the mamak restaurants needed at least 30,000 more workers to fill the vacancies nationwide.
"There is also the problem of unskilled workers. Usually there are a few trained or skilled workers to handle the duties in every service department in a mamak restaurant. For example, workers who serve beverages do not work as food delivery staff or the cook. Then there are also staff specially tasked to maintain the cleanliness, including cleaning the toilets.
"So, when there is a shortage of workers, operations are disrupted. The most worrying factor is the issue of cleanliness which is PRESMA's priority," he said.
Jawahar Ali said PRESMA members were always ready to respond to the government's call to hire local workers, but unfortunately not many locals were interested.
"We put up posters at members' restaurants calling on locals to apply, but the response has been cold.
The ones who come for the job are senior citizens who are short of money or foreigners who ran away from their employers in other sectors such as farm labour or illegal immigrants.
"We don't discriminate against senior citizens who are still able to work even though we need the youth's strength in this line of work.
"Young people prefer to work in the gig economy sectors... probably because of the flexible working hours," he added.
It was reported that operators of mamak restaurants had lost almost 50 per cent of their employees after they returned to their country ever since the MCO was implemented in early 2020.