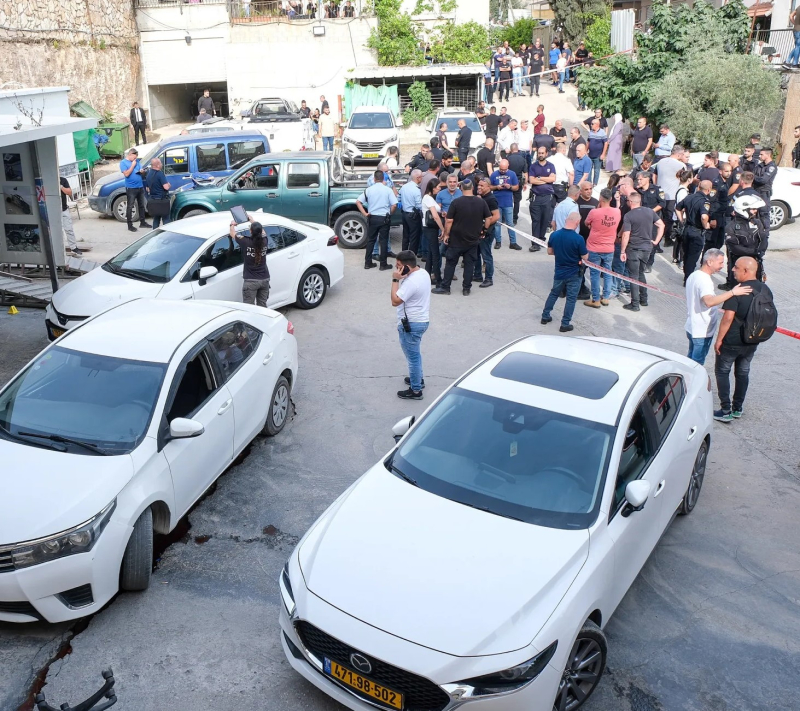 Five Arab Israelis were shot dead at a car wash in the country's north on Thursday, police said, amid the worst crime wave in years to hit the minority.
The shooting brought the number of Arab Israelis killed this year to 96.
In response, Prime Minister Benjamin Netanyahu said Israel's internal security agency Shin Bet would now help the police to tackle rampant criminal activity in the community.
Police said the shootings took place at Yafia, an Arab village just west of Nazareth, and a statement said forces were searching the area for suspects.
Speaking from the scene of the killings, police spokesman Eli Levy told public broadcaster Kan that "one person or more" opened fire at a group of men at a car wash.
A separate police official said the incident was most likely part of a gang war.
Maher Khaliliya, head of the Yafia local council, called the shooting a "massacre," accusing police of responsibility due to lax enforcement.
He told AFP he had no information about the background of the shooting, but said his town was "standing with the families of the victims as one".
Experts say Arab gangs have amassed large quantities of illegal weapons over the past two decades and are involved in drugs, arms and human trafficking, prostitution, extortion and money laundering.
Arab Israelis, descendants of Palestinians who stayed on their land after Israel's creation in 1948, comprise around 20 percent of the country's population.
They have long complained of discrimination and police inaction against violence and crime plaguing their communities.
On May 30, elected officials and representatives of the Arab minority protested in Jerusalem and called on the government to increase security.
Earlier this week, Netanyahu announced a decision to form a steering committee following a meeting with Arab lawmakers to discuss "solutions to the wave of murders in the Arab society".
On Thursday, he said he was "determined to stop this chain of murders" and would see that happen by not only reinforcing police but also "with the help of the Shin Bet".
The internal security agency does not normally investigate criminal activity.
Earlier on Thursday, a 30-year-old man and a three-year-old girl were wounded in a separate shooting in Kafr Kanna, an Arab town north of Nazareth.
Roni Halon, a reporter with Nazareth-based Radio Nas, said the Yafia shooting took place as a police helicopter was above the town searching for those behind the Kafr Kanna attack.
Speaking to AFP from the scene, Halon said two masked men had arrived on motorcycles and used automatic rifles to kill the men in the car wash, reports BSS.