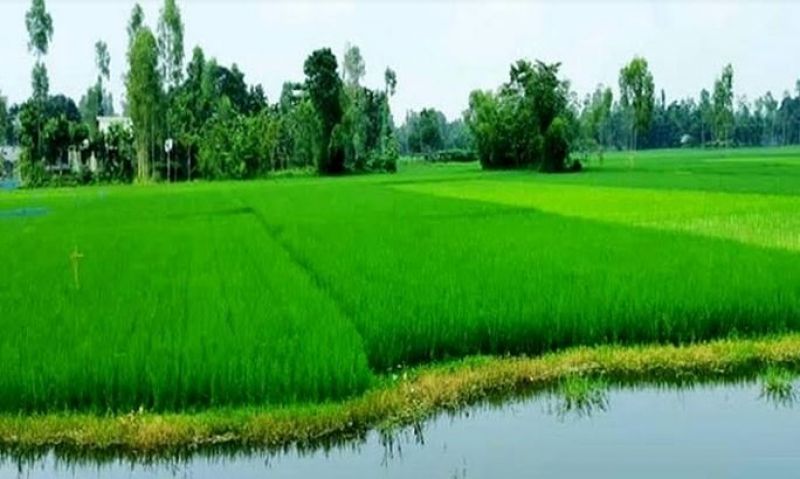 Farmers have exceeded the fixed target of Aman rice farming by 0.05 percent in Rangpur agriculture region.

Despite a drought-like situation due to less rainfall during the seedling transplantation period, farmers have exceeded the fixed target of Aman rice farming by 0.05 percent in Rangpur agriculture region.
Officials of the Department of Agricultural Extension (DAE) tender plants ofAman rice are growing superbly following recent rainfalls making farmers happy after the recent drought-like situation in the region.
Farmers have engaged their all-out efforts in nursing their growing Aman rice plants on vast tracts of crop lands that have worn an eye-catching look.
The DAE has fixed a target of producing 18,07,916 tonnes of clean Aman rice (27,11,874 tonnes of paddy) from 6,15,685 hectares of land for all five districts of Rangpur, Gaibandha, Kurigram, Lalmonirhat and Nilphamari in the region this season.
"Farmers have cultivated Aman rice on 6,15,994 hectares of land, higher by 309 hectares or 0.05 percent against the fixed farming target," Additional
Director of DAE for Rangpur region Agriculturist Md Emdad Hossain Sheikh told.
The government undertook massive programs to assist some flood-affected anddrought-hit farmers in attaining the fixed Aman rice farming target.
The DAE distributed specially prepared Aman rice seedlings among flood-hit farmers free of cost and ensured irrigation facilities for transplantation of
Aman rice seedlings amid less rainfall.
Bangladesh Agricultural Development Corporation, Barind Multipurpose Development Authorities and farmers put irrigation pumps into operation for
transplantation of Aman rice seedlings and provide supplementary irrigation to crop fields this season.
Besides, late variety Aman rice seeds were distributed free of cost among flood-hit farmers who have already broadcasted those on their affected croplands.
"Many flood-hit farmers have also cultivated late 'Ganjia' varieties of Aman rice using seeds from their own stocks in affected areas," Hossain added.
Deputy Director of the DAE for Rangpur Agriculturist Md. Obaidur Rahman Mandal said field level agriculture officials are providing assistance and latest technologies to farmers to ensure successful cultivation of Aman rice.
"The government has taken special steps to ensure use of high quality seeds,smooth supply of fertilizers and fuels, prepare model seedbeds, balanced
fertilization and adoption of improved technologies to enhance rice production this season," he added.
A number of farmers of different villages here said their tender Aman rice plants were growing superbly amid favourable climatic conditions now.
Farmers Ariful Haque of village Najirdigar and Aiyub Ali of village Kathihara in Rangpur said their growing Aman rice plants would not require supplementary irrigation following frequent seasonal rainfalls.
"The superbly growing tender Aman rice plants have created greenish blankets on vast tracts of crop fields predicting a bumper rice production despite a prolonged drought-like situation," Haque said.
Senior Coordinator (Agriculture and Environment) of RDRS Bangladesh Mamunur Rashid said farmers have successfully adapted to adverse climatic conditions
and drought-like situations and achieved the fixed farming target of Aman rice this time.
He predicted a bumper production of Aman rice as the tender plants are growing excellent now following recent rainfalls despite a drought-like situation during the transplantation periods of seedlings in Rangpur agriculture region.