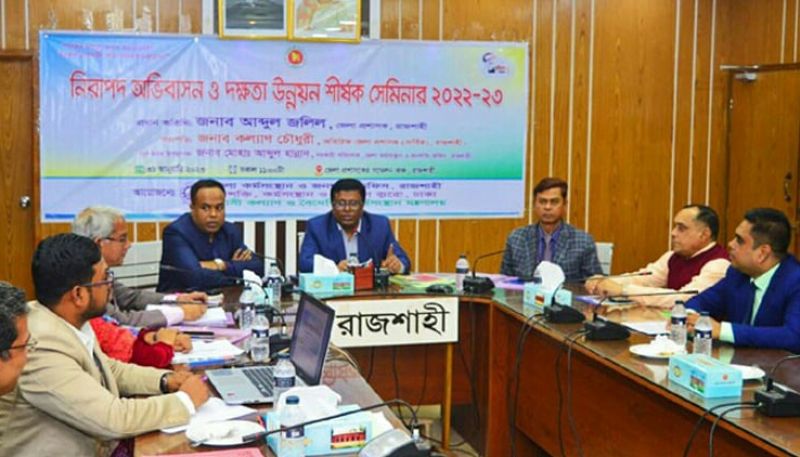 A workshop on safe migration held at the conference room of the Deputy Commissioner, Rajshahi on Tuesday.

Rajshahi, Feb 1 - Concerted efforts of all the government and non-government organizations can be the crucial means of ensuring safe migration for the sake of boosting foreign remittance collection.

Necessary support from the community, mass-media and other stakeholders is also important for supplementing the government efforts of ensuring safe migration of workers successfully.
All the authorities concerned should come forward and work together so that none dare to hamper the sector of women migration.
Government officials and other stakeholders came up with the observation while addressing a workshop styled "Safe Migration and Skill Development" held at the conference hall of Deputy Commissioner (DC) here Tuesday.
The District Employment and Manpower Office hosted the workshop supported by the Manpower Employment and Training Bureau under the Ministry of Expatriates' Welfare and Overseas Employment.
DC Abdul Jalil addressed the workshop as chief guest, while Additional DC Kolyan Chowdhury was in the chair. Assistant Director of Employment and Manpower Abdul Hannan highlighted the aspects of safe migration in terms of earning foreign currencies during his keynote presentation.
Principal of Technical Training Centre Emdadul Haque and Principal of Women Technical Training Centre Shafiqul Islam also spoke on the occasion.
DC Abdul Jalil said the present government under the prudent and farsighted leadership of Prime Minister Sheikh Hasina has been working to send competent manpower to overseas markets besides finding new overseas job markets for boosting the earning for foreign remittance.
He also said the government is working to generate skilled manpower so that they can earn more remittance compared to the unskilled ones.
Integrated efforts of all the government and non-government organizations concerned can be the best way of safe, protected and dignified migration of people, particularly women.
Safe migration of women is very important for improving their living and livelihood conditions besides boosting the country's foreign remittance.
Referring to the ills of the unsafe migration the discussants unequivocally called for skilled manpower besides safeguarding the interests of the migrants.
They also unanimously stressed the need for proactive roles of embassy men to look into the interest and welfare of Bangladeshi women migrants besides re-employment after they return to the country empty handed. Source: BSS