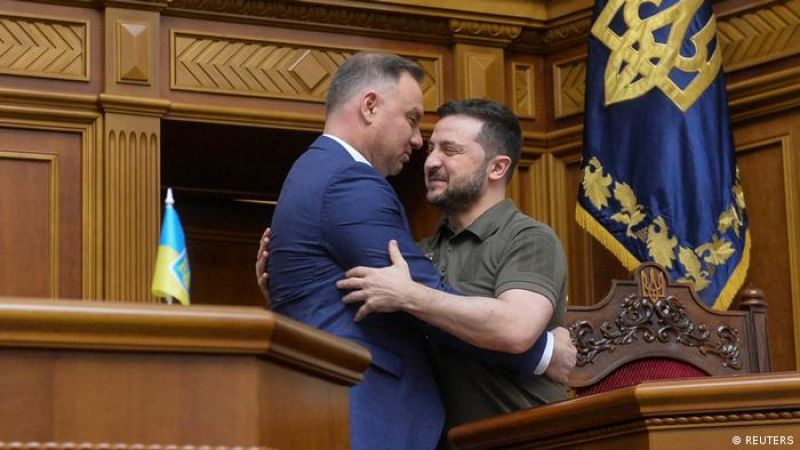 Visiting Polish President Andrzej Duda has told Ukrainian parliamentarians that only Ukraine should decide what path it should follow amid Russia's invasion

During a visit to Kyiv, Polish President Andrzej Duda told Ukrainian lawmakers that Ukrainians who fled the war into Poland were "not refugees to us."
"You are our guests," he was quoted as saying by the The New Voice for Ukraine news outlet.
The Polish politician also said Ukraine needed to be rebuilt "at the cost of the aggressor" and that he would not rest until Ukraine becomes an EU member.
Paris does not want to offer Ukrainians "any illusions or lies" about their way into the European Union, said France's State Secretary for European Affairs Clement Beaune.
"We have to be honest. If you say Ukraine is going to join the EU in six months, or a year or two, you're lying," Beaune told Radio J. "It's probably in 15 or 20 years, it takes a long time."
France's Macron has previously suggested creating a "European political community" to help quickly integrate Ukraine with the bloc. Kyiv would still be able to work towards a full membership. But Ukraine's President Volodymyr Zelenskyy rejected "such compromises" on his country's journey to the EU membership.
At a meeting in March, EU leaders said Ukraine belongs to the European family, but rejected the bid to fast-track its membership.
Concert-goers chant anti-war slogan in Russia
The crowd at a rock concert in St. Petersburg was recorded chanting an anti-war slogan on Friday, causing a stir in a country where media is banned from using words like "war" and "invasion" to describe Russia's attack on Ukraine.
In a video that spread across social media, the crowd is heard chanting "Fuck war!" during a concert of the Russian band Kiss Kiss.
The band did not comment on the events. They have previously taken an anti-war stance despite the government's clampdown under the draconian law which prohibits "discrediting Russia's armed forces."
Last week, another video surfaced of Russian rock Legend Yuri Shevchuk criticizing the war and the Russian president at a concert of Shevchuk's band DDT in the city of Ufa. In the video, he decried the deaths of young Ukrainians and Russians "over Napoleonic plans of another of our Caesars."
"The motherland, my friends, is not the ass of a president that needs to be cuddled and kissed all the time," he said. "The motherland is a poor grandmother selling potatoes at the train station. That is the motherland."
Shevchuk now faces charges for allegedly discrediting the military. He could face a fine of up to 50,000 rubles ($806, €764).
Ukraine prolongs martial law for another three months
With the Ukraine war about to enter its fourth month, the country's parliament prolonged general mobilization for another 90 days. Martial law will also stay in effect at least until August 23.
Martial law stops able-bodied men ages 18 to 60 from leaving the country and restricts certain civil liberties, such as the right to demonstrate. Military also has extended powers.
Polish president says Ukraine must 'decide about its own future'
Polish President Andrzej Duda has told the Ukrainian parliament in Kyiv that "only Ukraine has the right to decide about its future," criticizing those "worrying voices" saying that the country should give in to the demands of Russian President Vladimir Putin in the hope of ending Moscow's invasion.
"Nothing about you without you," Duda said in what was the first speech at the Rada by a foreign head of state since the start of Russia's invasion on February 24.
Duda also said that nothing could disrupt the solidarity between his country and Ukraine.
His speech was punctuated by frequent bursts of applause by the Ukrainian parliamentarians.
Poland has taken in around 3.5 million people fleeing neighboring Ukraine from a total of 6.5 million now thought to have departed from their homeland amid the conflict.
Warsaw is also an enthusiastic supporter of Kyiv's bid for EU membership.
A Ukrainian parliamentarian, Roman Hryshchuk, later reported that Kyiv came under attack from Russian missiles during the speech, forcing deputies to take shelter, reports DW.