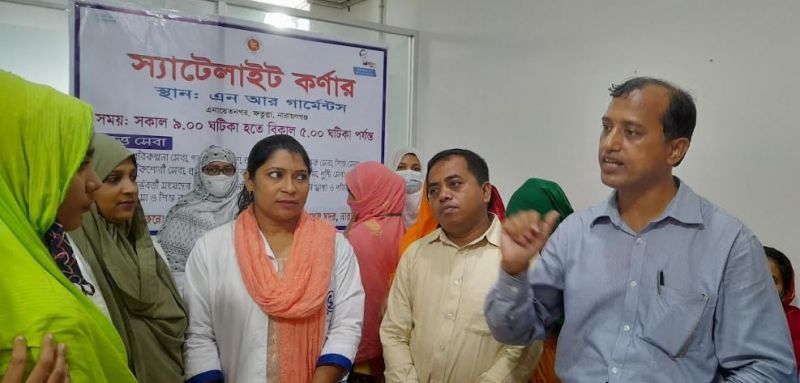 'Satellite corner' has brought salient revolution in providing sexual and reproductive health services to women garment workers.

Family planning related satellite corners established at garment factories under the initiative of Directorate General of Family Planning has brought salient revolution in providing sexual and reproductive health services to women garment workers.
Under a government project satellite corners were set up at 15 garment
factories at Fatullah in Narayanganj where garments workers are getting
sexual and reproductive health services free of cost.
Around 56,000 female workers received services from the corners since
inception.
In 2019, the service was introduced in Narayanganj sadar for the first time.
Satellite corners provide services free of cost in two days in a week.
Garment workers said they were earlier deprived of health care especially
sexual and reproductive health care, pregnancy care, antenatal, postnatal
care.
Due to price of hike of essential commodities, many households are unable to
afford birth control products. Because of that many workers have unwanted
pregnancies. Now they are getting services free of cost at satellite corners.
They are also learning many new things from there.
Talking to BSS, Time Sweaters Ltd worker Aleya Begum said: "This initiative
of the Directorate General of Family Planning is a blessing for us. Now we
don't have to remain worried about sexual and reproductive health. Earlier,
we had to go distant places to receive such services".
"In many times, we even don't get leave. We also had to think about the
expenditure. As a result the problems continued day after day, at one time
they became complex. Now we are getting services at our workplace," she said.
Metro Knitting and Dyeing Mills Ltd worker Akhi Khatun said these satellite
corners become a place of trust to them.
"Whenever we face any problem, we can get service from satellite corners. I
am extending thanks to the Directorate General of Family Planning for the
initiative," she said.
According to sources, the workers are getting services related to family
planning, pregnancy check up, nutrition services, post delivery services,
services for general diseases from the satellite corners.
Hygienic sanitary napkins are provided to workers during their menstruation.
Now workers don't have to take leave. Earlier, most of the women took leave
for these problems.
Knit Concern Limited's human resource official Sohel said owners and workers
both are getting benefits for the introduction of satellite corner at the
factories.
Workers are not taking leave as they are getting necessary quality services
and medicines from the corners, he said.
Not only workers but also officers also receive service from the corner, he
said adding that workers are also not seeking advance salary for treatment.
Narayanganj district monitoring officer of satellite corners and DGFP
assistant director (coordination) Matiur Rahman told BSS that the initiative
of setting up satellite corners is a successful one.
"Our staffs had to work a lot for implementing the initiative. Initially, we
had to make the garment owners understand the matter and impart training to
mid-level workers," he said.
Arrangements have been made to supply necessary medicines, MSRs, family
planning materials for organizing satellite clinics from the Directorate
General of Family Planning, and arrangements have been made to provide
projectors for imparting training to workers, he said.
Because if these golden girls remain out of family planning services, we will
not be able to reach our target and it will be difficult to achieve
Sustainable Development Goals (SDGs), said Matiur Rahman.
He said as a result of the extension of this service program to garments,
thousands of women working in these garments are getting family planning,
maternal and child health services, reproductive healthcare and nutritional
services and counseling.
Garment owners are very happy to serve these 'golden girls' by officially
setting up satellite corners in their garments.
Because, it has reduced the seasonal absenteeism of their workers and
increased productivity.
Moreover, they can show foreign buyers that family planning, maternal and
child health services, reproductive health care have been ensured for their
employees.
As a result foreign buyers are satisfied. And garment workers are very happy
to have these services at their fingertips.
Because when the government employees went to their homes, they could not
take service as they were at work. Now that problem is gone.
Sadar Upazila Family Planning Officer Pradip Chandra Roy told that family
planning satellite corner has been set up in 15 garment factories of
Narayanganj Sadar to relieve the stress of women workers working in garments.
About 55 thousand 619 women workers have taken sexual and reproductive health
protection services in these satellite corners so far. He said Prime Minister Sheikh Hasina received MDG Award-2010 for the country's remarkable achievement in attaining the Millennium Development Goals (MDGs), particularly in reducing child mortality. "We are trying to reach the health service to all in order to achieve the
sustainable development goals," he said.